The old saying in baseball is that "momentum is the next day's starting pitcher." You can have a great walk-off win, or hit a bunch of home runs in a blowout, but if the next game's starter blows up early, then yesterday's exciting win is nothing but a distant memory.
Basically, it boils down to this: there's no such thing as "momentum" in baseball at all. One game has absolutely zero bearing on the next. Here in 2016, Baltimore Orioles fans have had this fact bashed into our heads repeatedly and mercilessly.
Here are five times this year where the Orioles went to great lengths to remind us of the fundamental truth that there is no momentum in hardball.
May 21-26
The Birds kicked off a nine-game road trip with a 9-4 win in Anaheim on May 20. On May 21, they trailed 1-0 to the Angels, and had been held to just three hits in eight innings. LA starter Matt Shoemaker struck out 12 in 7 1/3. They were on the verge of wasting a great start by Kevin Gausman (6.2 IP, 1 R, 6K). In the ninth, Manny Machado and Adam Jones were quickly retired, and the O's were down to their last out, but then some Orioles Magic showed up.
Chris Davis singled, then Mark Trumbo walked, bringing birthday boy Matt Wieters to the plate.
Zach Britton would lock down his 12th save of the year, and the O's had started the trip 2-0.
So What Happened Next?
Ubaldo Jimenez happened. He gave up six in 5.2 before Dylan Bundy gave up another four, while the O's bats were stymied by Jared Weaver in a 10-2 loss. Following the game, the Birds flew to Houston, where they set an MLB record for strikeouts in a three-game series while being swept by the Astros. They lost the three games at Minute Maid Park by a total of four runs.
July 24-30
The Birds had taken the first two at home against the AL Central-leading Cleveland Indians, and were tied at 3-3 in the ninth inning on Sunday. Facing the prospect of extra innings, pinch hitter Nolan Reimold instead gave the Birds the two-out, walk-off win.
The following night, the lowly Colorado Rockies were in town for the start of a three-game set. Yovani Gallardo (I know) was on his game, allowing two runs in 6 2/3 IP, but the O's couldn't solve Colorado starter Jorge De La Rosa (and his 6+ ERA, because of course), and the game was tied at 2-2 after nine. In the 10th, Adam Jones and Jonathan Schoop singled with one out to put runners on the corners for Manny Machado.
Manny hit a comebacker that had no business winning the game. However…
Two straight walk-off wins! LET'S GOOOOOO!
So What Happened Next?
The O's dropped the final two games of the series to Colorado. They then stopped off in Minnesota to face the dismal Twins in a makeup game (loss) on their way to Toronto, where they lost the first two games of that series as well.
So just a little five-game losing streak following the two walk-off wins.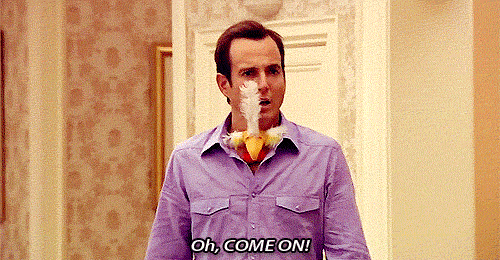 September 14-15
On September 14, the O's were finishing up what would ultimately be their most successful road trip of 2016. They had taken two of three in Tampa and two of three in Detroit, where the Tigers were hot on their heels for a Wild Card spot, before heading to Boston to take on the first-place Red Sox. After dropping game one 12-2, they bounced back to take the second game (6-3) and set up a rubber match.
Kevin Gausman outdueled 20-game winner Rick Porcello, and the O's took the 1-0 victory and the series, closing the gap in the AL East to just a single game.
So What Happened Next?
The AL East cellar-dwelling Tampa Bay Rays met the O's back in Baltimore for the start of the season's final, crucial home stand. Gallardo gave up three runs before O's fans had even taken their seats, but the good guys bounced back for four immediately, and led 4-3 after one inning. Yovani continued to Yovani, however, was yanked after 3.1 IP, and the Birds trailed 7-4 in the fourth.
They went 3-for-15 with runners in scoring position in the game – including 0-for-2 with the tying run on third and one out in the ninth – and lost 7-6.
As for Boston, how did they respond to a heartbreaking 1-0 shutout loss? We'll come back to that…
September 16-17
Following Thursday night's RISPFAIL, Jimenez came out Friday and allowed a pair of two-run homers to Tampa, one in each of the first two innings, and the O's quickly trailed 4-0. They fought back nicely though, with single runs in the fourth and seventh innings, and Ubaldo settled in, ultimately going 7.0 IP and allowing just those four runs, while striking out eight and issuing nary a single free pass.
Brad Boxberger entered the game for Tampa in the eight, and quickly loaded the bases on two walks and a HBP. It was the second straight inning they had the bases juiced with nobody out. In the seventh, Hyun Soo Kim had a grand slam robbed by Kevin Kiermaier, and the O's settled for just a single run. Fortunately, they'd plate two in the eighth to take a 5-4 lead.
Britton came on in the ninth, and things got WAYYY too interesting. However, all's well that ends well, and this ended up being perhaps the most exciting finish of the season.
So What Happened Next?

The Orioles took a 2-0 lead through three innings on Saturday's third game of the series, thanks to a handful of POFOs (productive outs for the Orioles). It was a beautiful thing to watch – runs without home runs. As if insulted by this odd turn of events, the O's lineup seemed to try to rectify it by swinging for the fences for the rest of the game. They failed to push any more runs across, and Tampa struck back against Chris Tillman and Oliver Drake for a 5-2 win.
As for Boston? Hang on, we're not there yet…
September 18-19
A lot lately, right? Well, the Orioles keep following up huge wins with frustrating losses at a time when a winning streak would be quite helpful, so here we are.
In Sunday's finale with Tampa Bay, the O's looked ready to waste the rare good outing from Wade Miley, who threw four scoreless innings before exiting with an injury. The O's welcomed back Darren O'Day from a way-too-long stint on the DL, and he promptly allowed a solo home run to the first batter he faced. Again, because of course he did. So the O's trailed 1-0 after five.
In the sixth, Manny tied the game with a solo shot. In the eighth, Trumbo went yard with one out to give the O's a 2-1 lead. Davis followed with a double and moved to third on a wild pitch, putting a key insurance run on third with one out. Schoop's fly ball wasn't deep enough to score him, and then J.J. Hardy struck out.
POFOs out, dongs in. All was right in Birdland.
Zach Britton locked down his 45th save despite allowing a leadoff single by Steven Souza Jr., who was then replaced by Corey Dickerson on a fielder's choice, and then spiking a wild pitch that moved Dickerson to second with just one out.
So What Happened Next?
Boston came to town for a HUGE four-game set. Porcello got some revenge, pitching a complete game on just 89 (!!!) pitches. Orioles minority owner Mookie Betts and completely-normal-40-year-old-power-hitter Big Sloppy both smacked two-run homers and the Sox cruised to the 5-2 win.
Oh, right, I promised we'd check in on Boston. Well, since getting shut out by Gausman and seeing their division lead shrink to just a game, they've reeled off five straight wins and pumped it up to four.
So right now, they seem to have all the momentum. However, as the Orioles have shown us all year, that means exactly jack squat.