The All-Star break is upon us and, if you ask just about any of your fellow Orioles fans, they will tell you that the starting pitching situation in Baltimore is scary. No, not Cleveland Indians or Washington Nationals or Arrieta-led Chicago Cubs "scary." When I say our starting pitching situation is scary, I mean it generally makes me want to curl up in a ball, lay on the floor, and cry until Mark Trumbo saves the day with a Trumbomb.
"Chris Tillman and pray for rain" has become a commonly used phrase in the Orioles Twitterverse, and rightfully so. The Orioles are 16-3 when Tillman takes the hill and 35-33 when it's anybody else. The most alarming thing about the rotation, however, is not how bad Ubaldo Jimenez, Mike Wright, and Tyler Wilson have been. Our expectations never should have been very high with any of them, though hindsight is 20-20.
Kevin Gausman, in my opinion, has been the disappointment of the season for the starting rotation. His lack of a true "out pitch" against right-handed hitters comes back to bite him more often than not, and his baffling propensity for delivering inopportune belt-high fastballs that often find their way into the outfield seats has frustrated Orioles fans to no end. Gausman's HR/9 this year is 1.56, which is higher than any single-season total for Wei-Yin Chen, and we all know how we felt about Chen's inability to keep the ball in the park.
Despite his struggles, which have led to an unappealing 4.15 ERA and 1.30 WHIP, Gausman has been the Orioles' second best starting pitcher thus far. He has the lowest walk rate on the entire staff and the highest strikeout rate of any of the starters. He has also been hurt by poor run support at times and has not been quite as bad as his 1-6 record would suggest.
I would rattle off some stats from the rest of the rotation, though I'll spare myself the research and spare you the reading. We've all seen them pitch and we've all wanted to throw our remotes at the television harder than Yordano Ventura threw that fastba– well, you get it.
Here's why, in my opinion, the 51-36, AL East division-leading Baltimore Orioles are in great shape at this year's mid-summer break despite the awful starting pitching: It really can't get worse.
The Orioles' cumulative starter ERA of 5.15 is better than just two teams: the last place Minnesota Twins and the last place Cincinnati Reds. Their cumulative 4.3 fWAR ranks 23rd in baseball, while every other first place team aside from the Texas Rangers ranks in the top six. It hasn't been pretty.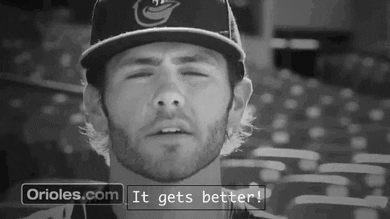 That being said, however, I expect a better second half for the starting pitchers as a whole. Tillman is bound to regress at least a little bit, though he should continue pitching at a high level the rest of the way.
Gausman, who came into this season as the Orioles' "X-factor" and has failed to live up to expectations, will hopefully improve as he continues to grow and mature. Yovani Gallardo, now that he's healthy, should pitch well enough to give the O's a chance to win.
[Related: Word on the Street – Time for Bundy to Replace Ubaldo?]
Dylan Bundy presents the trickiest situation due to the fact that he's being eased into a bigger workload. He has been very impressive as of late, however, which, combined with the incompetence of the back end of the rotation, might force Buck Showalter and the Orioles to push him into a starting role sooner than they had anticipated. I'd be lying if I said I wasn't concerned about rushing him back, but he seems like he's ready to handle it.
A trade could also help bolster the rotation. I made a push for Bud Norris before the Los Angeles Dodgers acquired him from the Atlanta Braves last month. Many names have been floated around in trade discussions and the O's could certainly make an effort to add an arm to the rotation.
If the Orioles end up playing October baseball this year – and I expect they will – it really only takes three or four decent starting pitchers to get a team through the playoffs, especially with the type of offense the Orioles have. Tillman, Gausman, Bundy, and Gallardo could all vie for starts in the postseason, as could a potential trade acquisition.
It will surely be exciting to see how the rest of the regular season plays out. Boston and Toronto are lurking in the rearview mirror, but I expect to see the Orioles at the top of the division after game 162.
Here's to a successful second half, and to the pitching doing their part to that end.